Part of our structured summer schedule includes an educational activity 3 days of the week for the kids so that we can spend quality time together, and also to keep their brains working throughout the summer.
Mondays are designated for movies. This week I chose 'One Peace At A Time' in attempt to educate my kids about how millions of children in third world countries don't even have basic child rights, such as shelter, clean water, education, medical care, or freedom. I've wanted to show them how to be appreciative for what they do have, but it's really hard when they can't physically comprehend or "see" what kind of circumstances other children have to endure. I think this movie shed some light on the matter in their eyes.
During and after we watched it, we discussed how it made us feel and what we would do to help. I then asked them to write me a report answering those two things. I'm so proud of them. They actually paid attention and grasped the exact concept I had hoped for.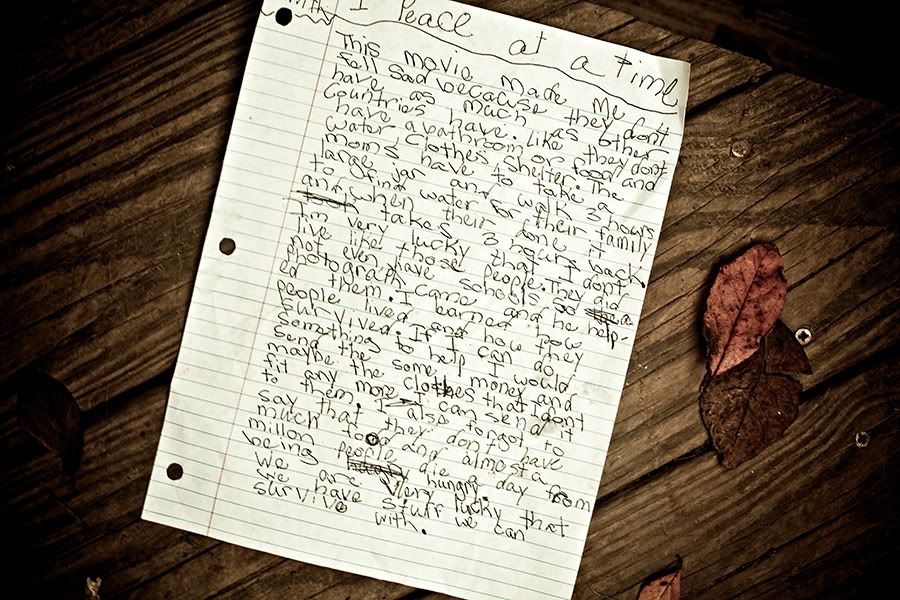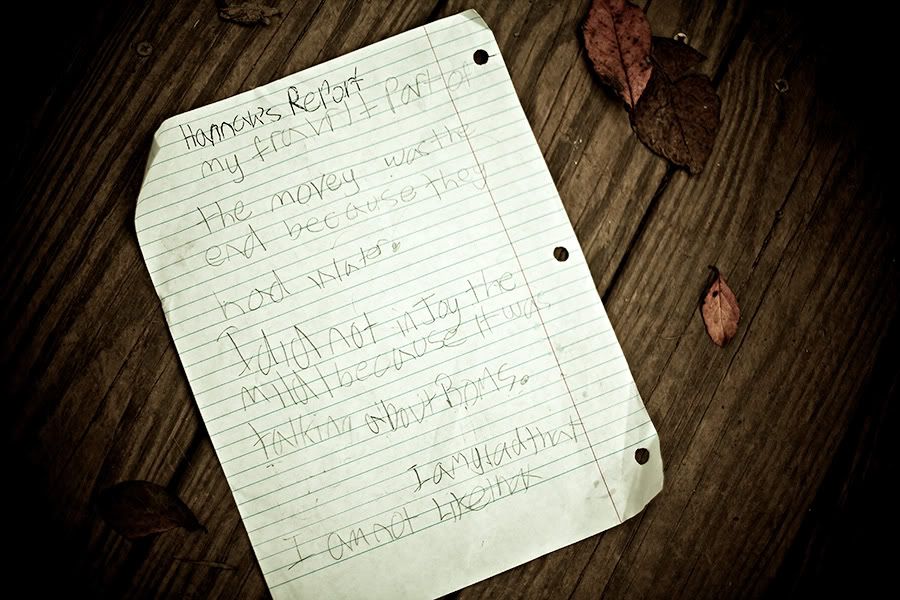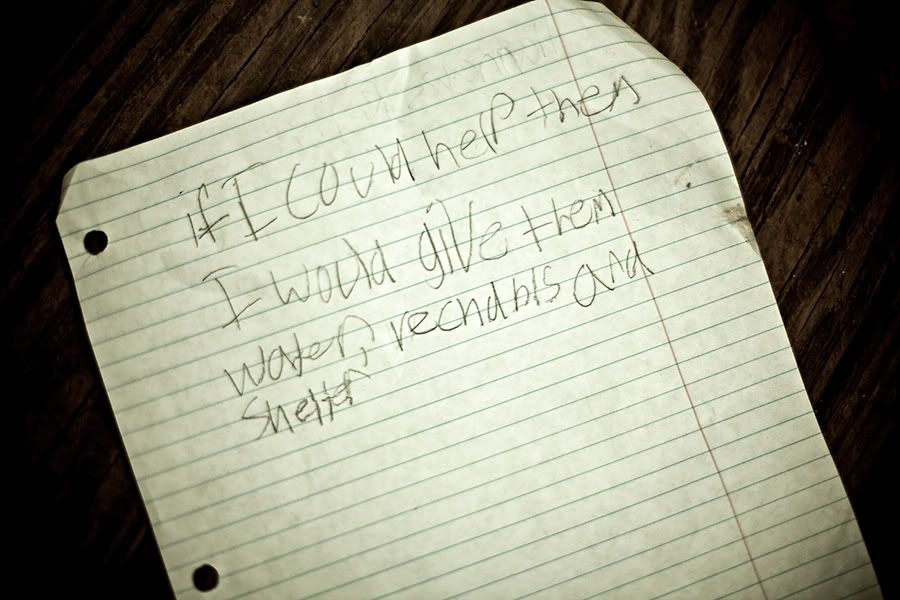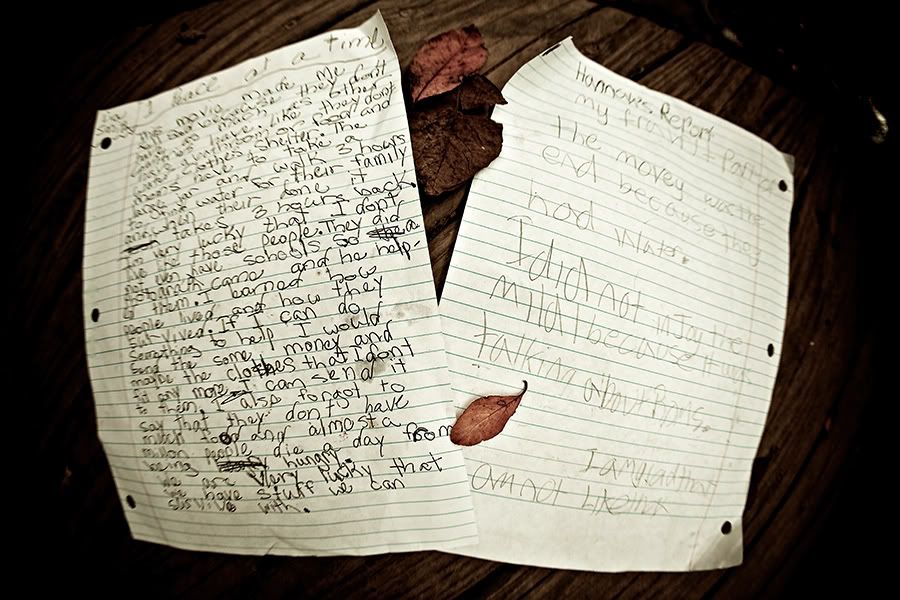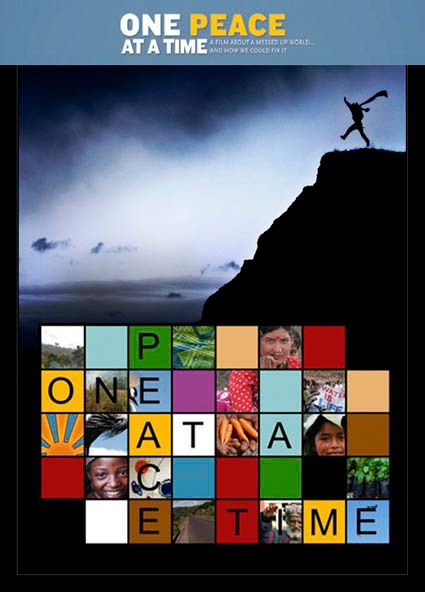 One Peace at a Time
(A film about a messed up world… and how we can fix it)
One Peace at a Time is an inspiring feature documentary highlighting solutions to some of the world's most pressing problems. The film includes the insights of Nobel Peace laureate Muhammad Yunus, Nobel Physicist Steven Chu, (Barack Obama's Secretary of Energy), Dr. Helene Gayle (CEO of CARE, International), American legend Willie Nelson and many others.
The film follows director Turk Pipkin's five-continent, two-year search for a better way ahead. Pipkin sought the answer to one basic question: Can we provide basic rights – water, nutrition, education, healthcare and a sustainable and peaceful environment – to every child on earth?
The solutions Pipkin chronicles include the model Indian orphanages of The Miracle Foundation, family planning initiatives with Thailand's Mechai Viravaidya, Ethiopian water projects with A Glimmer of Hope, and Architecture for Humanity's global design challenge for communities in need in the Himalayas, the Amazon and the slums of Nairobi.
One Peace at a Time is Pipkin's sequel to his highly acclaimed documentary Nobelity, which Esquire Magazine called, "Nine ways to save the World." While Nobelity looked at problems through the eyes of nine Nobel laureates, the new movie focuses on solutions that every person can be a part of.
"People are hungry to play a part in creating a better world," says Pipkin. "I hope this film will inspire large numbers of people to accomplish great things in the world and in their own lives."
The film is produced by the Nobelity Project, a 501c3 nonprofit working for a more peaceful and sustainable world. Proceeds from the film support the Nobelity in Schools education program and the nonprofit's development work in Kenya, Ethiopia and elsewhere. Online at www.nobelity.org
About the Nobelity Project:
The Nobelity Project collaborates with Nobel laureates and other inspiring leaders to provide reliable information and innovative thinking on pressing global problems and solutions that work. Combining professional filmmaking with a nonpartisan, nonprofit education program, our work reaches a broad cross section of people interested in making a difference.